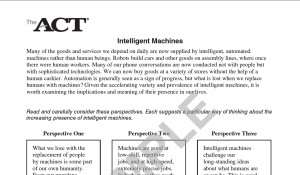 Students will see a completely different ACT Writing Section (Essay) on the ACT test offered on September 12, 2015. So why is it that none of the students I talk to have heard anything about this?
Well, it's time to get the word out, since the essay will be much more complex and challenging.
So what has changed?
The prompts are no longer directly related to student or teen life. They now focus on much more general issues.
Three perspectives are given and students must provide insight and analysis on each one of them.
Students can no longer take a simple one-sided stance on the topic. To get a high score, students must develop a complex and nuanced argument.
The time limit has been increased from 30 to 40 minutes.
An overall writing score of 1-36 will be given. And 4 domain scores of 2-12 will be given in the following areas:

Ideas and Analysis
Development and Support
Organization
Language Use and Conventions
Get started in preparing for this new "Enhanced" Writing Section by writing a practice essay today. Find a practice prompt here.