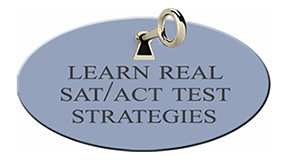 Even with pending test changes, a practiced knowledge of proven test strategies yield a student's best score. Our students learn tools in more categories, as well as the thinking behind the strategies. This facilitates a more complete understanding of all they learn, and they achieve successful application of test strategies during practice tests and official SAT and ACT exams.
Strategies Differ Between the SAT and ACT
The SAT and ACT are distinctly different tests. Strategies learned for one, do not always apply to the other. Not only do strategies differ between tests, they are also dependent upon on your student's facility with a given subject.
As with the foundation we build for your student, and the assignments we prepare, the tools we teach, and strategies we reveal, are tailored to your child's specific needs. Because of this, our students regularly see their scores rise from practice test to practice test. We monitor homework and practice test results carefully, and can see clearly when strategies are grasped!
You are welcome to set up an assessment for your child. Simply give us a call at 408-823-9999 or drop us an email.